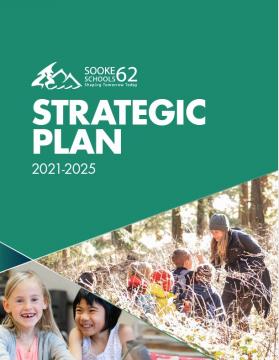 Tonight's Town Hall presenting the Strategic Plan is postponed until the new year.
With recent flooding events and more, we recognize the many challenges families are facing and want to provide space and time for people to relax and heal. Instead, we invite you to take a look at Strategic Plan 2021-2025 here, or watch this quick video overview of the plan that will guide the work of the district over the next four years.
Dear Families,
Exciting times are ahead for SD62! This year sees the start of a new Strategic Plan for the Sooke School District. The Strategic Plan contains the Board of Education's overall vision and goals that they want the school district to work towards. The Plan is important as it guides decision-making, budget use, and the activities found in the annual Operational Plan.
Through comprehensive engagement and consultation, Strategic Plan 2021-2025 was born. Thank you to staff, parents, students, partner groups and the general public for sharing their thoughts on what will now guide the district for the next four years.
Virtual Town Hall
TBD 2022
Take a look online
See the plan and learn about how we will measure progress. As we progress, we will fill out an assessment rubric. Cells will be completed based on progress markers developed for each planned objective over the next four years. There's much to accomplish! Strategic Plan | Sooke School District (sd62.bc.ca)
This virtual presentation will go over some of the details of the plan and provide time for any questions you might have too! We hope to see you there.
Whether it's by joining a school's parent advisory council, attending a board meeting or being an active participant in the day-to-day learning of children, you are invited to join us as we work together to achieve our mission and goals, while driving the values and beliefs that make us proud to be SD62.
Sincerely,
SD62 Communications Team