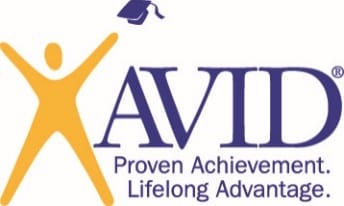 Advancement Via Individual Determination
Advancement Via Individual Determination (AVID) is a program to improve post-secondary readiness for students predominantly in the academic middle. The program targets students who typically have C to A/B letter grades in their academic subjects. As well, these students typically have a desire to attend post-secondary and have a willingness to work hard.
AVID seeks to develop skills that are critical to completing rigorous curriculum. Students are introduced to writing-to-learn practices, organizational techniques, and time-management strategies. Critical reading, formal writing processes, and public speaking are also developed along with study strategies, collaborative tutorials, and critical thinking skills. Furthermore, AVID students explore career and post-secondary options along with receiving financial and scholarship coaching. Finally, students participate in enrichment and motivational activities that build relationships and make going to post-secondary seem realistic and attainable.
In the Sooke School District, AVID is currently offered to students in Grades 9 to 12 at Belmont and Royal Bay Secondary Schools.
For more information, contact:
Paul Bendall
AVID District Director
View AVID Brochure