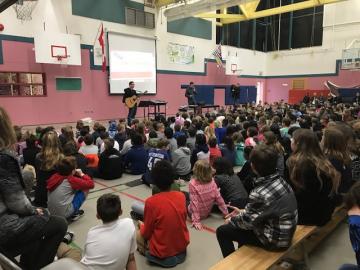 Langford – Hootie and the Blowfish were topping the charts, the iconic movie Toy Story was in theatres and everyone was learning how to use the newly released Windows 95.
Jean Chretien was running the country and Mike Harcourt was Premier of British Columbia.
The year was 1995 and Langford Mayor, Stew Young was celebrating the opening of a brand new school on Setchfield Road.
The Sooke School District is pleased to share that Lakewood Elementary is celebrating its 25th  Anniversary this year! From its humble beginnings with just 210 students to the flourishing school community of 465 students and 45 staff, Lakewood has become an important part of its Westshore neighbourhood.
"Schools have long been known as the heart of their communities and Lakewood Elementary is no exception. Built in just 35 months, it's construction was an early example of the growing district quickly addressing student and community needs." Said Ravi Parmar, Chair of the SD62 Board of Education. "We celebrate this milestone while we focus on continuing to meet those needs by building even more schools in the district."