We would like to acknowledge and thank our communities for sharing their voices during the development of our new Enhancement Agreement, named Na'tsa'maht. We thank you for your good mind and good spirit: Na'tsa'maht. The signing ceremony and implementation took place on Wednesday, September 14, 2016.
"Na'tsa'maht: being of one mind, one spirit. Together, working side by side, supporting each other, walking together. Good mind, good spirit for the good of our children, for the good of Mother Earth sustaining us."

– Elder Shirley Alphonse
2016-2021 Na'tsa'maht Enhancement Agreement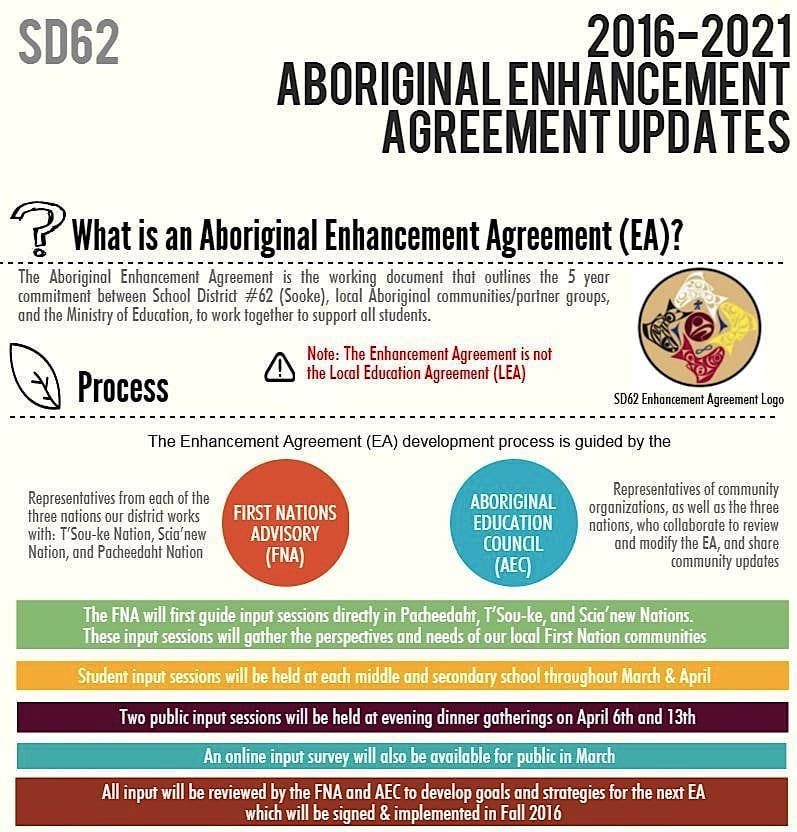 Na'tsa'maht is a five-year working agreement made by our school district, all local Aboriginal communities and the Ministry of Education, to maintain the ongoing collective ownership to improve the success of Aboriginal students while providing learning opportunities to all students, staff and community. The intent of Na'tsa'maht is to engage staff, students, families and communities in collective ownership of its goals and aspirations.
Collective ownership can be defined as each person within the SD62 community embracing and taking responsibility for the success of the Na'tsa'maht goals. Na'tsa'maht is in alignment with goal #3 of the District Achievement Contract by focusing on the Aboriginal Ways of Knowing at all levels. Learn more about other Aboriginal Enhancement Agreements.
2016-2021 Enhancement Agreement
2009 – 2014 Enhancement Agreement
Enhancement Agreement Reports:
Traditional Territory Acknowledgement
Territory Acknowledgments honour and show respect to the nations who have lived, worked and played in a location since time immemorial. We are proud of the relationships we have with our three local nations, and use the words gifted by them in our territory acknowledgements. The Douglas Treaty area is unceded territory or land that has never been surrendered historically. Pacheedaht Nation does not have a treaty and is unceded territory. SD62 Territory Acknowledgement Information
Visit the Aboriginal Education page to find out more about the programs, council meetings and resources available to both students, parents and teachers.
BC Government Aboriginal Education Enhancement Agreements