Check back soon for 2024/25 registration dates.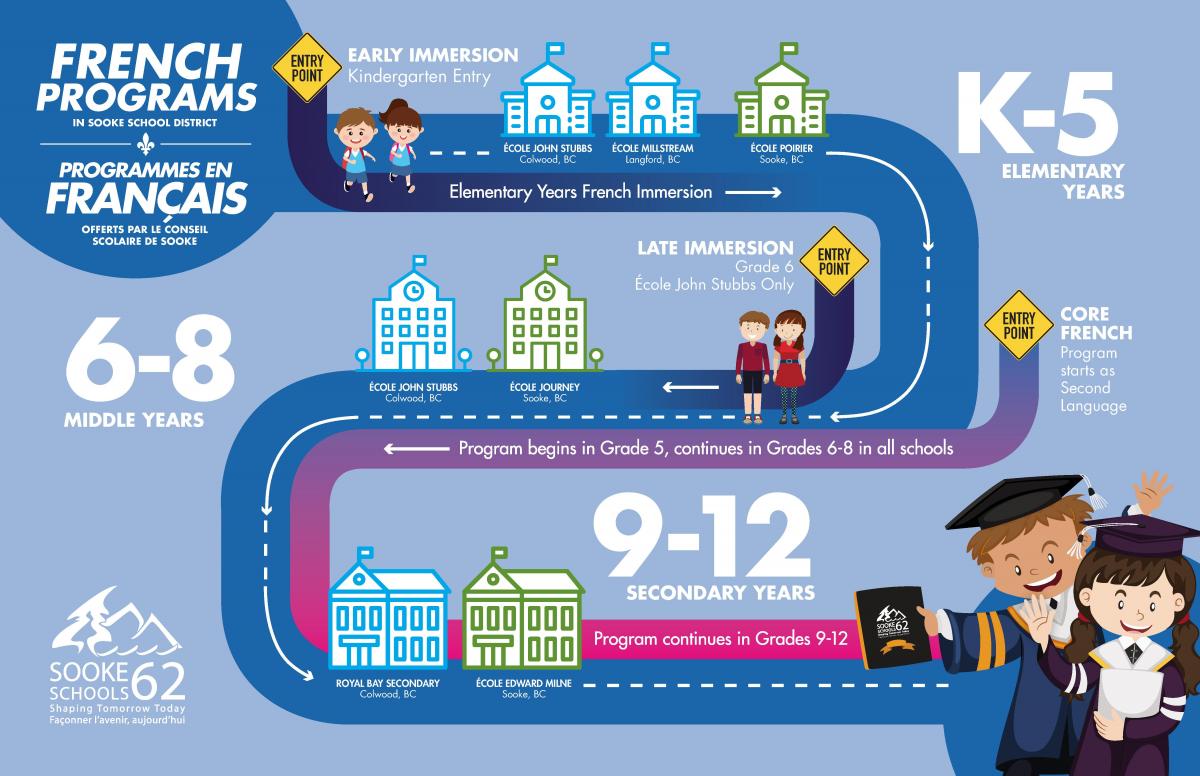 French Immersion
French Immersion is a French language-learning program available to all students in SD62. French Immersion is designed for non-French-speaking students who wish to attain a high level of proficiency in both of Canada's official languages.  Students achieve a level of learning in all curricular areas equivalent to that achieved by students in English programming. 
French Immersion students are immersed in the French language and culture within the classroom where French is used for meaningful communication and learning across the subject areas. It is our hope to provide French Immersion learners with opportunities to become both well-educated and functionally bilingual. 
Students build knowledge and understanding around second language acquisition, enabling them to more easily acquire additional languages. All French Immersion programs begin with 100% French instruction. The percentage of French gradually decreases as learners move into the secondary years, allowing for flexibility of course selection while providing for consistency of language learning and maintenance of French proficiency.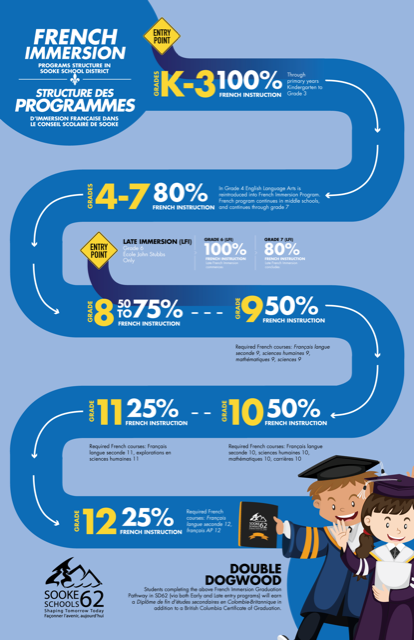 French Immersion General Information
Early French Immersion
Early French Immersion is offered in both Sooke (École Poirier) and the Western Communities (École John Stubbs Memorial and École Millstream). Early French Immersion students begin the program in Kindergarten and continue through to Grade 12. All learning is in French for the primary years, with English Language Arts reintroduced as a subject in grade 4.
Late French Immersion
Late French Immersion (grade 6) is offered at École John Stubbs Memorial School. Late French Immersion students participate in two years of intensive language instruction starting in grade 6. Upon completion of the Late French Immersion Program in grade 7, students are streamed into the main French Immersion Program for grade 8.
Registration
Registration in French Immersion programs is subject to availability.
Please visit the following pages for more information:
Kindergarten Entry French Immersion
Grade 6 Entry French Immersion
French Immersion is offered at the following Sooke Schools:
| | | | |
| --- | --- | --- | --- |
| School | Address | Phone | Grade |
| Royal Bay Secondary | 3500 Ryder Hesjedal Way | (250) 474-2377 | Grades 9 – 12 |
| EMCS | 6218 Sooke Rd. | (250) 642-5211 | Grades 9 – 12 |
| École John Stubbs | 301 Zealous Crescent | (250) 478-5571 | K – 8 |
| École Journey | 6522 Throup Rd. | (250) 642-5881 | Grades 6 – 8 |
| École Poirier | 6526 Throup Rd | (250) 642-0500 | K – 5 |
| Millstream Elementary | 626 Hoylake Road | (250) 478-8348 | K – 5 |
Core French
Core French or French as a Second Language is the study of French as a subject in grade 5. It is mandatory from grade 5-8 and it becomes elective in grade 9-12. A second language at grade 12 level is recommended for students planning to attend post-secondary as it is an admission requirement at many post-secondary institutions in BC and across Canada.